The laser machines at PPLD are available for cutting and engraving a variety of materials to make items with a high level of accuracy and detail. The library does not provide materials for the lasers; here are some things you can bring to use with them:
Cutting and engraving: Wood, cork, matboard, cardboard, acrylic plastic, cardstock
Engraving only: Glass, stone, ceramic, brick, painted metals
For some ideas on what to make, see the Epilog Laser Sample Club website.
These machines require badging before use. To become badged, either watch the Laser Badging Video and pass the quiz at the end or simply attend a laser badging class at one of PPLD's three makerspaces. Classes are currently unavailable due to the COVID-19 pandemic.
Laser machines are available by reservation at all makerspace locations. Walk-ins are permitted, but usage of the machine cannot be guaranteed. To reserve a laser, please visit our equipment reservation page.
For more resources and information, visit our LibGuide on laser engraving and cutting.
---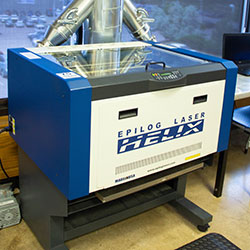 | Location | Quantity |
| --- | --- |
| Library 21c, Make II | 1 |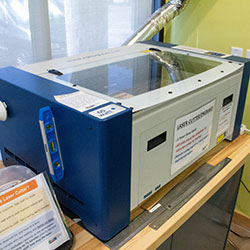 | Location | Quantity |
| --- | --- |
| East Library | 1 |
| Sand Creek Library | 1 |