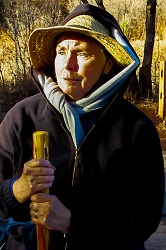 Current Location
Colorado Springs, CO
Occupation(s)
Author - Photographer - Publisher - Vocalist
Biography
This local author is both Kate Peters, (raised in California and Hawaii, a solo adventurer to Fairbanks, Alaska "to see a winter," the pioneering wife and protagonist of Sleeping Moose Saga,) as well as Atwood Cutting, the fictionalized daughter and actual author of several books, including the historical fiction series about Alaska, and photo essay books designed "for areas of waiting." After leaving Alaska, and living in the Midwest for a quarter century, Kate Peters came to the Pikes Peak region in 2012, to re-immerse herself in the arts, and wade in some streams. Since retiring and moving to Colorado Springs with Tim, her husband of 40+ years, Kate has pursued her goal of producing a tome worthy of space on public library shelves. As Atwood Cutting, she is achieving it.
Awards/Honors
Phi Beta Kappa, University of Hawaii, 1972
Phi Kappa Phi, University of Hawaii, 1967
Gold Medal Soloist, Hawaii Music Educators' Awards, 1966
Education/Training
Stanford Elementary School; Punahou School Academy; Univ. British Columbia; Univ. Hawaii, BA 1972 Performing arts (Phi Beta Kappa); Univ. Alaska Fairbanks, art and music; Trans-Alaska Pipeline Construction Camp Bullcook; Homesteader on Kenai Peninsula; Alaska Pacific Univ. MLA 1986 (cum laude) Liberal Arts, Museum Education, Aesthetic Expression.
Published Works
Images from Atwood: A Photo Essay Series for Areas of Waiting (2016)
Tales from Sleeping Moose, vols. 1-4 (Echo Hill Arts Press, 2015)
Country Magazine (Short story, 2013)
Kansas City Voices – a periodical of KC writing and art, 2005 - photographs
Booklet, The Story of Hope, 1992
Clay County Museum and Historical Society Newsletter, Missouri - 1990
Educational Newsletter, Recycling Center of Hawaii, 1989
Alaska Pacific University's Literary / Art Magazine, Anchorage - short story, a…
Punahou School, Literary Club, Honolulu - poem, 1965
Palo Alto Times, California – poem, 1959
Published Works Book Jackets
Organizations
Writers' Group at Brookdale Skyline Senior Living - Concrete Couch community art outreach
Speaker Topics
Geared for the general public, Kate is happy to share stories and answer questions about pioneering in "bush" Alaska before there were cellphones. Topics might include: off-road transportation, construction without electricity, life without running water, rural communications, wildflowers, and the "end-of-the-road" syndrome.

Geared for high school teachers and librarians, she would also be pleased to discuss her "Bildungsroman" as a personal venture into Emerson's vision of self-reliance and Transcendentalism, the art of memoir, personifying the women's movement before there was a women's movement, and "seeing the elephant" of American pioneering lore.