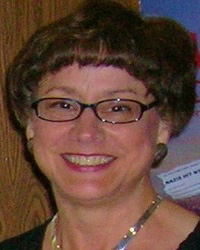 Pseudonym
K.D. Huxman (for children)
Current Location
Colorado Springs, CO
Occupation(s)
Freelance writer, freelance editor, poet
Biography
K.D. Huxman's first love, after reading, was space. She wanted to be the first veterinarian astronaut. In college she studied biology and was in Air Force ROTC. After college she became an Air Force officer. But rocketing to the stars was not to be. She married a fellow Air Force officer and settled into raising a family. But she never forgot her love of books or science. Many of her books have a science fiction or fantasy element. K.D. went on to earn an MFA in Writing for Children and Young Adults from Vermont College of Norwich University. Her first picture book is Dragon Talk. Her second picture book, Grizzelda Gorilla won an EPPIE for Best Children's/YA Ebook. Both picture books are from Dragonfly Publishing. She writes nonfiction for children at Apprentice Shop Books. After travelling around the country with the Air Force, K.D. settled in Colorado. On a clear night she enjoys looking up at the stars, dreaming, and writing.
Awards/Honors
2019 - IBPA Benjamin Franklin award - Gold medal for "The Colorado Coal Field War"
Nominated for RWA Golden Heart Award; Various awards for the Paul Gillette Memorial Writing Contest
Education/Training
M.F.A. Writing for Children, Vermont College/Norwich University - Bachelor of Science in Biology, University of Massachusetts, Lowell
Published Works
Author has also written short stories, poetry, and various non fiction articles
Organizations
Pikes Peak Romance Writers - Romance Writers of America - Society for Children's Book Writers and Illustrators - Electronically Published Internet Connection
Speaker Topics
Writing romance novels, novellas, poetry, for magazines, for children, electronic publishing. I love to talk about writing and the business of writing. Please contact me with an idea and I will see what I can put together for you.