Miller, Courtney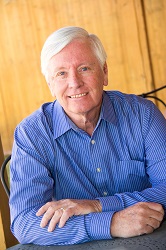 Biography:
Courtney Miller is the multi-award winning author of the seven-book series The Cherokee Chronicles which has received widespread acclaim in the Native American Community for authenticity and has received five international awards so far.
Courtney has written over 200 articles for the online magazine Native American Antiquity. He is considered an expert on ancient Native American cultures.
His newest book series, The White Feather Mysteries, is carrying on his award-winning tradition; the manuscript for book two, It's About Time, was the winner of the 2016 Extravaganza Draft to Dream Book Competition.
Courtney shifted careers from business management to writing in 2012 and now resides in the Wet Mountain Valley in Southern Colorado with his wife, Lin.
Awards/Honors:
The First Raven Mocker - Beverly Hills Book Award, International Book Award, NIEA Book Award
Harley (unpublished) - Finalist, 2017 Draft to Dream Book Competition
It's About Time - Winner, 2016 Draft to Dream Book Competition
The Raven Mocker's Legacy - Book Excellence Award
Gihli, A Chief Named Dog (coming soon) - Finalist, 2015 Draft to Dream Book Competition
Speaker Topics:
For topics, refer to: http://courtneymillerauthor.wixsite.com/courtney-miller/speaker