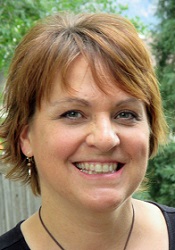 Current Location
Colorado Springs, CO
Occupation(s)
Caregiver - Writer
Biography
Kathy Miner lives in Colorado Springs with her family and her critters. When she isn't writing or "momming," she enjoys reading everything from current scientific research to Harry Potter. She also loves hiking in all kinds of weather, especially when she can bully one of her sweet pups into coming along, and she will try her hand at any kind of hand-craft there is. You can learn more about her and her novels on Facebook at Kathy Miner Books, visit her website at www.authorkathyminer.com, or email her at kathyminerwriter@gmail.com.
Awards/Honors
My first book, What Survives of Us, won the National Indie Excellence Award and is a B.R.A.G. Medallion Honoree
Education/Training
I have a B.A. in English with an emphasis in both practical and creative writing.
Organizations
Independent Book Publishers Association and Colorado Independent Publishers Association
Speaker Topics
Before I became a caregiver for my adult disabled son, I was a high school English teacher, so I'm able and willing to present on all levels of writing craft, from the basics of story development and the importance of mechanics and grammar, up to more advanced topics like realistic dialogue development and building believable characters. I can also present on the ins and outs of indie publishing, as it pertains to my journey. I would love to do this - I miss the classroom VERY much! :)