Kids Staff Reviews by Genre: Graphic Novels/Manga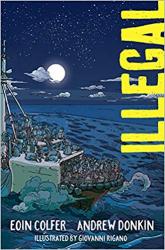 Review:
Ebo's brother Kwame is missing. But Ebo knows where he's gone: to find their sister. Life in Libya is hard, so Ebo and Kwame's sister, Hannah, left and promised to send back money once she was installed in Europe with a new job and more money. But since she left, Ebo and Kwame have heard nothing from her. So when Ebo wakes up one morning and Kwame is gone, Ebo knows he must go after him. What follows is the harrowing, heartbreaking story of Ebo's journey through dangerous cities, deserts, and the ocean.

Wow. Look, I cry a lot, and am no stranger to crying whilst reading. But this book made me sob. Like, uncontrollable tears running down my face. The refugee story is often a sad and intense one, and Ebo's is certainly no exception. And then, when you think about Ebo's story in the context of it being a real thing happening to real people in this world that we all share, and the US is actively turning away people in similar if not the same situation, well, its depressing. But importantly so. One must also consider the fact that thousands of children, thousands of people are dying, and no one seems to care. It's a deeply sad book that will cause lots of introspection, but for me, that's a good thing. This is an issue that needs more attention.

The stunning artwork added to the impact. Seeing Ebo's expressions - the heartbreak, loss, and hope playing out across his face – made what was already an intense, powerful story all the more affecting. I loved pretty much everything about this book, and I hope you take the time to read it. 5 stars.

Thanks to Baker & Taylor, Netgalley and Sourcebooks for the free paper and electronic advance copies, which I received in exchange for an honest review. Illegal is available now – put your copy on hold today!
Reviewer's Name:
Britt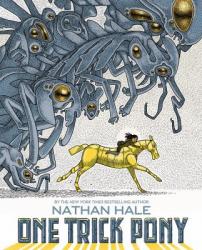 Review:
In this creative, futuristic graphic novel all technology has been stolen by a species known as the Pipers. When a young girl and two of her friends stumble into a hidden cache of robots, they become the targets of a wild chase. This book is exciting, unique, and includes a battle in outerspace! Recommended for grades 3-6.
Reviewer's Name:
Jenny G.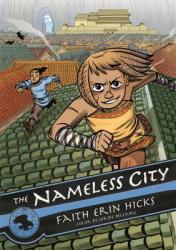 Review:
Kaidu is new to the Nameless City. This is a city so frequently conquered that no name, despite thousands, sticks. He's trying to become a warrior, make friends, and know his father but all three tasks seem unlikely for the shy boy. Then he meets Rat, a street-smart girl who has the ability to think on her feet and run quickly. They form a friendship and manage to save their city from an upcoming threat that could change who runs the city. Fans of Avatar the Last Airbender comics or TV show would adore this series. It's new, it's refreshing, and follows an interesting and still developing story arch. I couldn't put it down as I turned page after page of beautiful illustration and compelling story. There are many cultures at war with one another in the still, albeit temporarily, peaceful city. The first in the series, I look forward to watching the story take shape and tackle complex issues about identity, war, friendship, and trust. It was really enjoyable and I highly recommend it!
Reviewer's Name:
Meagan H.