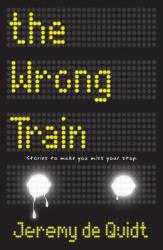 Review:
A boy is trying to get home by train, but he ends up on a strange platform with no one around and no idea when the next train is coming so he can get home. A man suddenly appears and sits with the boy, telling him rather strange stories while they wait.
This book is a collection of short stories that revolve around a bigger story. All of the stories are creepy and mysterious. If you are the kind of person who likes to be creeped out just a little, but would still like to sleep at night, this book is for you. I am not a huge horror fan, but I could not put this book down. I found this book in the kids section (the little ghost sticker on the binding intrigued me, so I thought I would give it a try) so this could be the reason I found it more bearable and less creepy than other books of that genre. No matter what grade, if you are looking for a spooky book, you should give The Wrong Train a try (unless you find it not scary at all, in this case I suggest you read it anyway because it's still pretty good.)
Reviewer Grade: 10
Reviewer's Name:
Emma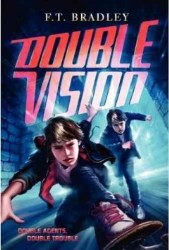 Review:
The story; Double Vision is a great book that I recommend to readers who like suspense. Double Vision starts out in the main character; Lincoln's school. He and his classmates are to go on a trip to a chicken farm not far from the school. After getting to the chicken farm, the farmer was very strict, and didn't let anybody near his chickens. Instead, he just talked about them, and told everyone all about chicken farming, chicken housing, chicken food, etc. Soon, Lincoln got bored and decided to go see the chickens for himself. After sneaking away from the group, Lincoln opened the door to the chicken coop and was flustered by chickens in front of all of the other kids. After Lincoln went home, he found out that he was expelled from his school, and the farmer is suing them for a great amount of money. Because they knew he was in lots of trouble, two agents came to knock on their door. After, they told them that they would take Lincoln and straighten him up. At first, his mother refused, but decided to give in. After Lincoln got in their car, they said they weren't taking him to a boot camp… but a spy camp! The part I enjoyed in this book was when Lincoln got attacked by chickens! I recommend this book to any age that loves suspense and action!
Reviewer Grade: 7
Reviewer's Name:
Logan L.