Wernly, Kathy and Bob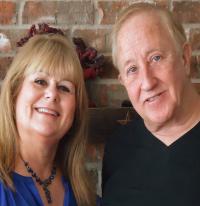 Pseudonym:
Kathy Clark and Bob Kat (YA)
Biography:
Bob and Kathy Wernly write as a team under the penname of Kathy Clark for our adult romantic suspense novels and Bob Kat for our YA romance/mystery/time travel series (Timeshifters). We lived in Colorado since 1985 and in Colorado Springs for a year and a half. Several of our series are set in Colorado, including Denver Heroes, and an upcoming series set in Cripple Creek called Breathless. One of our YA novels (Forever Love) is a time travel ghost story set at the Stanley Hotel the year it opened in 1911. We have given workshops and speeches about writing and creativity all over the U.S.
Kathy is a past vice-president of Romance Writers of America and a co-founder of Colorado Romance Writers.
Education/Training:
BA degree in Mass Communications and Fine Arts, York College (Kathy) - BS and MBA in Aerospace Engineering and Business Administration (Bob)
Organizations:
Romance Writers of America - Colorado Romance Writers - Mystery Writers of America
Speaker Topics:
Characterization - Plotting - Writing a series - Writing with a partner - Writing young adult novels - Writing new adult novels - How to self publish your book - Many other writing-related topics