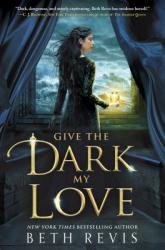 Review:
Nedra wants nothing more than to become a medical alchemist (think magical doctor). When the opportunity arises for her to spend one year at the best alchemical school in the country, she jumps at it, even though she knows it means leaving her twin sister and her parents – perhaps forever. Nedra quickly jumps to the top of her class, but when a plague breaks out and starts killing commoners, Nedra finds herself out of the classroom and into the hospital. As she studies the plague, she realizes that it might not be entirely natural. Anyone around her could be responsible for its rise, even those that she trusts the most and she turns to a forbidden form of alchemy, necromancy, to try to find the answers.
The book is narrated by two characters, Grey and Nedra. Nedra was an enthralling character. The book follows her as circumstances get progressively more dire and she does what she has to do to survive and keep her twin sister alive. Her inevitable descent into darkness felt earned and real. Grey is Nedra's classmate and love interest, and I didn't mention him in the synopsis because he was entirely unnecessary to the book. I think he just served to give an outsider's perspective on Nedra, but his chapters read as wholly superfluous to me. Perhaps he'll have more of a role in the sequel?
The alchemy and necromancy themselves were quite cool, aside from the cruelty to rats. The cruelty is addressed and makes sense (one could argue that we use lab mice in a similar fashion), but might be upsetting to animal lovers. The first part of the book, while not fast paced, was still fun to read as we got to hang out with Nedra quite a bit in the hospital and learn about her craft and motivations. As she experiments more with necromancy, the book gets twisty and dark, and I really enjoyed the ending. There are also some fun political machinations and a revolution brewing in the background, all of which add to the immediacy of later plot points.
If you enjoyed a good villain origin story, such as Marie Lu's The Young Elites, Tamora Pierce's Tempests and Slaughter or the TV show Breaking Bad, you should give this book a read. I enjoyed it, and I think I'll like the sequel even more when it comes out in a year or so. 3 stars.
Thanks to Razorbill and Netgalley for the eARC, which I received in exchange for an unbiased review. Give the Dark My Love will be available for purchase on 25 September, but you can put your copy on hold today!
Reviewer's Name:
Britt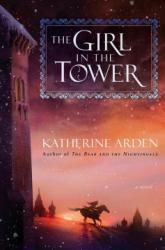 Review:
Katherine Arden's The Girl In The Tower is just as good, if not better, than the first book, The Bear and The Nightingale. Filled with more Russian Fairy tales, atmospheric literary prose, rich and strong characters, and the same enchanting setting of Medieval Russia, this book picks up right where the first one left off. It follows the story of Vasya, now a grown up woman she, instead of conforming to the role woman in her day usually play, of marriage or life in a convent, chooses instead a life of adventure. Leaving her home and traveling the vast Russian Wilderness while dressed as a boy, she soon is called upon to defend the city of Moscow and finds the threat greater and more deadly than she imagined. While fighting this threat, only she can stop, she is also forced to protect her secret as she comes upon her brother and attracts the attention of the Grand Prince of Moscow.
Part of what drew me to this book is the fairy tales, yes, but also the historical setting of Medieval Russia. Katherine Arden does a masterful job of weaving fantasy elements with real life historical details only a great historian would discover. Blurring the line between history, fantasy, and reality this book and, more importantly this series, is contemporary historical fantasy at its best. It is a sketch not only of real life in Medieval Russia, but also displays the power of story and demonstrates the importance of fairy tales and the lessons they can teach us.
Reviewer's Name:
Tawnie M.
Review:
This exciting historical mystery tale takes place in 14th century Scotland. The Prior of Oronsay, an unpopular and unsavory character, is found strangled on the beach, his mouth stuffed with sand. Muirteach, the crippled bastard son of the Prior is assigned the nearly impossible task of finding out who of the many people who had motives to end this man's life is the murderer. Susan McDuffie, in her first published novel, very successfully introduces her readers, via this suspenseful plot and surprise ending, to what is to become a series of mysteries involving the main character, Muirteach.
Reviewer's Name:
Linda