Staff Book Reviews by Genre: Medieval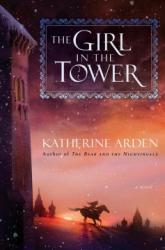 Review:
Katherine Arden's The Girl In The Tower is just as good, if not better, than the first book, The Bear and The Nightingale. Filled with more Russian Fairy tales, atmospheric literary prose, rich and strong characters, and the same enchanting setting of Medieval Russia, this book picks up right where the first one left off. It follows the story of Vasya, now a grown up woman she, instead of conforming to the role woman in her day usually play, of marriage or life in a convent, chooses instead a life of adventure. Leaving her home and traveling the vast Russian Wilderness while dressed as a boy, she soon is called upon to defend the city of Moscow and finds the threat greater and more deadly than she imagined. While fighting this threat, only she can stop, she is also forced to protect her secret as she comes upon her brother and attracts the attention of the Grand Prince of Moscow.
Part of what drew me to this book is the fairy tales, yes, but also the historical setting of Medieval Russia. Katherine Arden does a masterful job of weaving fantasy elements with real life historical details only a great historian would discover. Blurring the line between history, fantasy, and reality this book and, more importantly this series, is contemporary historical fantasy at its best. It is a sketch not only of real life in Medieval Russia, but also displays the power of story and demonstrates the importance of fairy tales and the lessons they can teach us.
Reviewer's Name:
Tawnie M.
Review:
This exciting historical mystery tale takes place in 14th century Scotland. The Prior of Oronsay, an unpopular and unsavory character, is found strangled on the beach, his mouth stuffed with sand. Muirteach, the crippled bastard son of the Prior is assigned the nearly impossible task of finding out who of the many people who had motives to end this man's life is the murderer. Susan McDuffie, in her first published novel, very successfully introduces her readers, via this suspenseful plot and surprise ending, to what is to become a series of mysteries involving the main character, Muirteach.
Reviewer's Name:
Linda