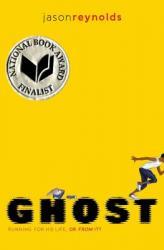 Review:
Jason Reynolds (author) + Guy Lockhard* (narrator) = Magic
Castle Cranshaw, aka Ghost, has been running from things his whole life: his violent father, the consequences of altercations at school with a bully, and most of all, the anger that's been building up inside him. So Ghost has a ton of natural talent, which he puts to use when he inadvertently impresses the coach of a local track team. After the coach begs him to join, and Ghost reluctantly agrees, he begins to see that he might be happier if he runs towards something instead of away from everything.
I listened to this audiobook, and it was excellent. I really struggle with middle grade fiction, as I oftentimes have trouble identifying with the characters (I mean, middle school was a loooooooong time ago), but Reynolds took me right back to the thick of it. In a good way. The day-making/ruining things your classmates would say, interactions with adults in positions of authority, and not really being sure about who you are and what you want in life - Reynolds nails it all. Moreover, Ghost is just a straight up likable character, even as he makes poor decision after poor decision. We really get to see him grow over the course of the novel, and even as he does the wrong thing, his heart is usually in the right place. I loved his relationship with his mother, and later, with Coach. There aren't always positive adult relationships in fiction for young people, and so it was nice that Ghost had so many adults that he could turn to. The secondary characters were just as dynamic, and also had very serious problems of their own to deal with. I'd read a book about any of them. Shoot, I wanted to adopt most of them. As a runner myself (although I'm not competitive and do longer distances), I really liked that the book was about track as it's not a sport we read or hear a lot about. There's a bit about fartleks that was pretty hilarious, and I think runners (Land Sharks, anyone?) will find a lot to love here.
If you are looking for a book to listen to or read with your kids, this is a great one. There are loads of teachable moments, and it is ultimately a heartwarming tale of self-discovery. I couldn't get enough of it - 5 stars.
*Shout out to Guy Lockhard - he narrated the other Jason Reynolds book that I've listened to (All American Boys), and he is a fantastic narrator. It seems like Reynolds thinks so as well, because it looks like Lockhard will be narrating Reynolds' recently released book about Spiderman Miles Morales. I may have just put that on hold...
Reviewer's Name:
Britt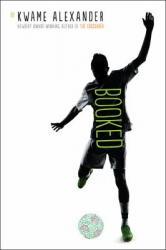 Review:
Nick Hall has everything going for him: he's doing well in school, he's got a solid flirtation going with his crush (or...limerence as it were), and most importantly, he made the soccer travel team. And so, of course, everything starts to go wrong. His parents separate, he starts to get bullied and his best friend ends up on a soccer team 30 miles away.
Booked is absolutely in no way the type of book I would normally pick up, but despite that, I thought it was fantastic. It's a sports fiction novel written in verse neither of which are my thing, but man, I get why Crossover won that Newbery if it was anything like this. In very few words, Alexander manages to develop complex characters, create humor, and develop and subsequently neatly (a little too neatly, perhaps, but hey, it is a book for kids) tie up several plot lines. Oh! And the words! There is a fun little subplot in which Nick's dad wrote a dictionary, and it leads to some really awesome word play. I also learned a few new fun vocabulary words to throw around.
Anyway, my final thought is really just...wow. I'm impressed. I'll definitely be booktalking this one. And even though, like I said, it's not my thing AT ALL, I'll probably read Crossover, Alexander's other book. 5 stars.
Reviewer's Name:
Britt