Image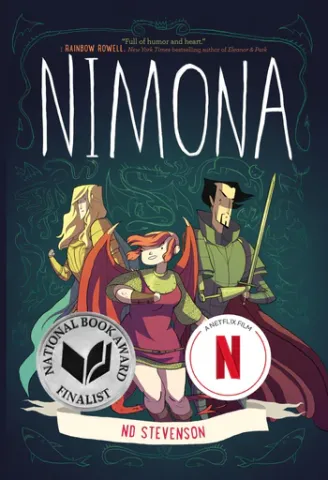 Review
It's a rare treat to find a graphic novel with well-rounded characters, an interesting story, and an art style that has range. Even if it started as a webcomic, Nimona shows a surprising amount of depth for the medium. Sure, some of the early parts were clearly encapsulated in a serial format, but they were a quick way to introduce the characters and setting. When the story has some room to grow, it gets even better. It's definitely a page-turner, and I devoured it as fast as I could.
The heart of Nimona is its characters. Flipping the hero's journey on its head and focusing on the villain's perspective was a fun touch. Nimona's chaotic nature was a fun contrast to Lord Ballister Blackheart, who just wanted to do his villainous revenge alone. Perhaps the biggest surprise was how naturally the book handles LGBTQ+ themes. None of it felt forced or odd, even in a science fantasy setting. It was just there, with no winking nods or awkward attention brought to it. Then again, it was also a fantastic adaptation of the "enemies to lovers" trope—or would it be "lovers to enemies"?
As someone who likes to write science fantasy stories, I absolutely loved the science fantasy setting. It has all the trappings of a medieval time, just with video chats, laser guns, and dragons co-existing in a way that makes perfect sense. This is the kind of thing I can completely get behind. If anything, I hope this book inspires more writers to jump into this genre, as I desperately want to read more books like this. It's like the best parts of sci-fi and fantasy brought together in an awesome (but also deeply moving) story.
A science fantasy graphic novel with excellent characters, story, and art, I give Nimona 5.0 stars out of 5.
Reviewer's Name
Benjamin W.