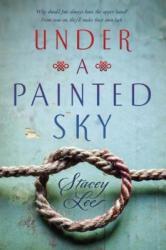 Review:
Under a Painted Sky was just okay for me. The book was probably very similar to being on the Oregon Trail - every once in a while something exciting would happen but for the most part, you're on the trail with a long stretch of boring ahead of you! That being said, I really do like the fact that Stacey Lee used a "historical" setting to present two strong, multicultural female characters. Annamae (African-American) and Samantha(Chinese) came into each others lives at a critical time and in the end, they realize that you can choose your family. Also being accepted for who you are was a central theme. But I felt Under a Painted Sky was a historical novel with not much history. The story takes place on the Oregon Trail, and we do hear of some of the hardships of traveling that the pioneers faced, but Stacey Lee only did one mention of Native Americans in the book. One sentence about the Cheyenne. It's hard to believe that on the trail, they didn't encounter any Native Americans. I think this book will be popular with teen girls. They will love the romance!
Reviewer's Name:
Melissa
Review:
I've never enjoyed an obituary so much. Charlie LeDuff sure knows how to cozy up to his readers, even if the tales he's telling are less than happy, quaint musings set in Paradise. An easygoing, narrative style meant I had serious trouble putting this book down. Partially, I'm fascinated by the empty shell that is now the city of Detroit- and I'd much rather hear about it from the bottom, up than vice versa. Real stories from real people put things into a much clearer perspective, while also lending a definite desperation to the tone. Detroit has died, and after ignoring its death throes, we didn't even have the decency to give it a proper funeral.
Charlie is ready to breathe one last breath of life into a city that has been burned down by its own residents no less than three times in history. It's a city that in fact gave birth to the American worker, the American sound, and American progress. It's hard to escape the irony that it's also where all of those things have gone to die.
Reviewer's Name:
Evan