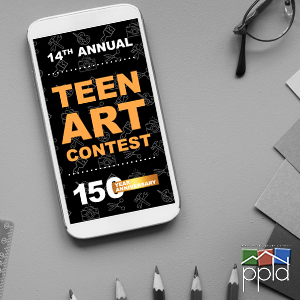 Colorado Springs 150th: The Story of Us
Participate in the 14th annual Teen Art Contest!
Help us celebrate the 150th anniversary of Colorado Springs during this year's Teen Art Contest. Submit your creations to celebrate the theme. Submissions will be accepted from Tue., Dec. 1 until Mon., Feb. 22.
William Jackson Palmer established Colorado Springs on July 31, 1871. 2021 marks the sesquicentennial, or 150-year anniversary, of that founding.
The Story of Us asks you to think about where do you fit in and answer that question through art.
Check out Regional History and Genealogy collections at Pikes Peak Library District. There is a wealth of digitized photographs, pamphlets, manuscripts, maps, oral histories, films and more, available online in PPLD's Digital Collections.
Also look through Pioneers Museum Digital Exhibit - the The Story of Us: The Pikes Peak Region from A – Z. You can learn about the people, places and events that make our region unique. Their exhibit helps you learn about how our community came to be, and imagine all the ways it could change in another 150 years! After you have created your artwork – feel enter into the Pioneers Museum Digital Exhibit - the The Story of Us: The Pikes Peak Region from A – Z!
Awards will be given in two categories: Middle School and High School for 1st place, 2nd place, and Coordinator's Choice. One overall Best in Show will also be awarded.
Guidelines
Must submit your entry by Mon, Feb. 22, 2021.
Must be ages 13 - 19 at time of submission. If you are the parent or teacher of a 12 year old, please contact contest organizer Becca Philipsen at rphilipsen@ppld.org.
Must be an El Paso County resident.
Only one entry per person.
Jurors reserve the right to decline inappropriate entries.
---
---
FAQS
When will I know if I have won?
We will notify participants by mid-March if they have won an award.
Will my artwork be displayed?
Yes! Your artwork will be displayed in a virtual art gallery.
What are the prizes?
We award prizes for Coordinator's Choice, First place, and Second place for the high school and middle school age groups. We also award a prize for Best in Show, which is the piece that received the highest score out of both the middle and high school categories. In the past, winners received a drawing mannequin and gift card to Meininger's Art Supply store.
What can I do to improve my chances of winning?

Work with the theme—It doesn't have to be a literal interpretation, but we do look for pieces that have been inspired by the theme in some way. Your paragraph describing your piece can have a big impact on this.
Stand out! Whether through subject matter or unusual take on the theme, we notice unique entries more. For example, we tend to get a lot of close-ups on eyes, so they tend to not stand out as much.
Have fun! Don't view it as an assignment or chore. We can tell when teens submit pieces they are passionate about—so do something that you love!

If you are a teacher that would like to enter a class of students, please contact Becca Philipsen directly at rphilipsen@ppld.org.
What if I am 12 and want to participate?
Email Becca Philipsen at rphilipsen@ppld.org.
My question wasn't answered here.
Email Becca at rphilipsen@ppld.org