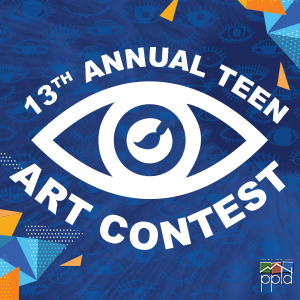 This year's theme is Vision 20/20!
Show us your take on this year's theme by entering Pikes Peak Library District's 13th Annual Art Contest!
What is your vision? Or maybe you have a neat perspective on how hindsight is 20/20. Be creative and let us see how Vision 20/20 inspires you! Prizes are awarded to top finishers in Middle School and High School categories.
---
How to Enter
Print and sign our Artwork Agreement Form. (Below)
Bring the Artwork Agreement Form and your artwork to a drop-off location on Fri., Feb. 14, Sat. Feb. 15, or Sun., Feb. 16, during open library hours. Drop-off locations are East Library, Fountain Library, High Prairie Library, Library 21c, Monument Library, Old Colorado City Library, Penrose Library, Ruth Holley Library, and Sand Creek Library.
If you are a teacher entering on behalf of your students (such as for your entire class), please download the excel sheet below and upload into the entry form when prompted.
---
Guidelines
Must be in grades 6 - 12 in March of 2020
Must be an El Paso County resident
Only one entry per person
Jurors reserve the right to decline inappropriate entries.
Entries must be two-dimensional and no more than two inches deep, including frame. Any textural elements (glued-on items such as pencils, pennies, etc.) must be inside a frame to prevent damage.
If you want to display at Library 21c or Penrose Library, art must be able to be displayed in a way that is compatible with a wire hanging system.
Since we have to transport the artwork between locations, frames or matting are highly encouraged for the protection of all pieces. We are very careful but frames and matting help protect your pieces even more!
---
FAQ
When will I know if I have won?

We will notify participants by mid-March if they have won an award. All participants and their friends and family are invited to the Awards Ceremony on Sun., March 29 at 2 p.m. at Library 21c in the Venue regardless of if they won an award.

Will my artwork be displayed?

Yes! You can choose from one of three locations to have your artwork displayed during the month of April. Locations are East Library, Library 21c, or Penrose Library

When can I pick up my artwork?

The first week of May at the library you choose to have it displayed. An email will be sent in April with specific details.

What are the prizes?

We award prizes for Coordinator's Choice, 1st place, and 2nd place for the high school and middle school age groups. We also award a prize for Best in Show, which is the piece that received the highest score out of both middle and high school. In the past, winners received a drawing mannequin and gift card to Meininger's Art Supply Store.

What can I do to improve my chances at winning?

Work with the theme—It doesn't have to be a literal interpretation, but we do look for pieces that have been inspired by the theme in some way. Your paragraph describing your piece can have a big impact on this.
Stand out! Whether through subject matter or unusual take on the theme, we notice unique entries more. For example, we tend to get a lot of close-ups on eyes, so they tend to not stand out as much.
Have fun! Don't view it as an assignment or chore. We can tell when teens submit pieces they are passionate about—so do something that you love!

Do I have to have a frame?

No, but we highly encourage it. Pieces are not judged on if a frame is present or not, but frames help protect your artwork during storage and transportation, and make it easier to hang your piece.
My question wasn't answered here! Email Becca at rphilipsen@ppld.org