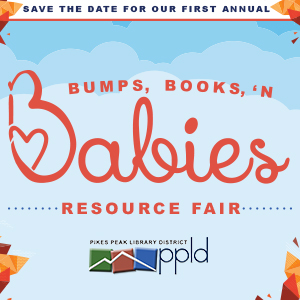 PPLD invites you to participate in our 1st Annual Bumps, Books, 'n Babies Resource Fair!
When: Sat., Sept. 28 from 1:30 - 4:30 p.m.
Where: Library 21c, 1175 Chapel Hills Dr.
Parents of babies and those who are expecting or trying to conceive:
Connect with local resources and services that make the parenting journey easier and give babies a bright beginning! This FREE event featuring local exhibitors representing pregnancy, baby, and parenting focused community groups and organizations from a variety of sectors, including wellness, safety, early literacy, parenting groups, and more!
Ask professionals your baby-related questions and get giveaways!
There will be lots more fun to be had, including a maternity/family photo shoot with the Library 21C Studio green screen, mini massages, Q&A Panels and presentations on a variety of topics, and mini programs too!
Baby Story Times with baby massage lessons
Prenatal Yoga
Baby & Me Yoga
DIY Baby Toys Craft Station
Babywearing Dance Party!
Baby Talk: Language, Learning, & Literacy
Baby Care: Wellness Q&A
Pregnancy & Childbirth Q&A
Mama Care: Postpartum Q&A
Diapering & the Alternatives
Photo Shoot
Click here for photo shoot information.
When: Sat., Sept. 28 from 1 - 5 p.m.
Where: Studio 21c, 1175 Chapel Hills Dr.
We are partnering with Rocky Mountain Children's Health Foundation's Best Start Program to provide FREE Colorado baby boxes to new and expecting parents! Baby boxes give babies up to six months of age a safe place to sleep while under parental supervision. Inside each box is a firm mattress and an organic cotton sheet.
Watch the online syllabus and register today to reserve your FREE Best Start Program baby box and pick it up at the Bumps, Books, 'n Babies Resource Fair: Click here.


2019 Vendors
 

Click here for vendor application form.