Staff Book Reviews by Genre: Poetry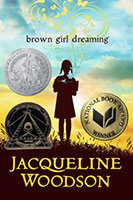 Review:
This autobiography written in free verse by Jacqueline Woodson is an excellent insight into growing up as an African American girl in the 1960's.
It is a very moving portrayal of the role of family (grandparents, parents, uncles & aunts and siblings) in a life of a child. The author also gives the reader a definite sense of place, whether it is Ohio, South Carolina or Brooklyn, NY. Highly recommended.
Reviewer's Name:
Lisa
Review:
A short sweet book full of humorous poems if they were written by cats! You forgot one option mentioned above for reading audience: cats! Great pictures and perspective on the part of the author.
Reviewer's Name:
Susi