Image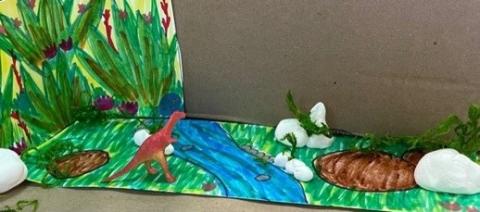 Take and Makes for this project will be available at area PPLD libraries beginning Friday, Nov. 12, 2021.
Supplies and Directions:
Step 1
Gather your supplies.
Provided in your bag: cardstock, clay, moss, dinosaur
From home: colored pencils/crayons/markers, scissors, tape
Step 2
Cut your cardstock strip so that you have a strip to make the ground of your dinosaur habitat and a strip to make a background (you might need a grownup's help with this).
Step 3
Decorate both strips of cardstock with your markers. Maybe there are a bunch of leafy plants in the background or a big sun; maybe the ground has a river running through it.
Step 4
Secure your strips with tape so the background stands up.
Step 5
Now add the 3D things! Use the clay to mold rocks, mountains, dino eggs - whatever you like!
Add the moss to give your habitat some extra plant life. Finally, name your dino and put them in
their new home!