Image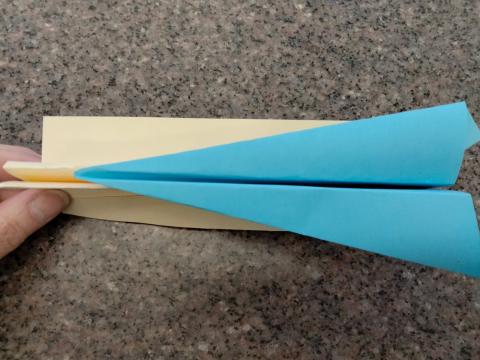 Take and Makes for this project, for ages 5-12, will be available at area PPLD libraries beginning this Friday, June 10, 2022.
Supplies and Directions:
Materials We Provide:
File Folder
Origami Paper
Rubber Band
Materials You Provide:
Stapler
Scissors
Ruler
Pencil
Directions: (for additional pictures, see pdf link below:
1. Draw a rectangle along the fold of your file folder that's approximately 4.5 x 7 inches. The folded edge should be part of your rectangle. Cut it out, but don't cut the folded edge. When you open your rectangle, it should be about 9 inches x 7 inches.
2. Fold one side down to the folded edge. Turn the folder over and do the same to the other side.
3. Fold each side back up to the top. Crease well.
4. Open the folder up along the original fold. Staple the rubber band to one end near that center fold.
5. Use the origami paper to fold a classic dart airplane.
6. Stretch the rubber band around the front of the launcher and around to the back. Hook it to the back near the top.
7. Slide the airplane into the center slot of the file folder launcher. It should rest all the way back against the rubber band.
8. Pull the sides of the launcher apart. The rubber band should propel the airplane forward!
To expand this project, experiment with different weights of paper for your airplane, different rubber band thicknesses, and different launcher lengths. You could also change the trajectory to see how the distance traveled changes.
Based on: https://frugalfun4boys.com/file-folder-paper-airplane-launcher