Image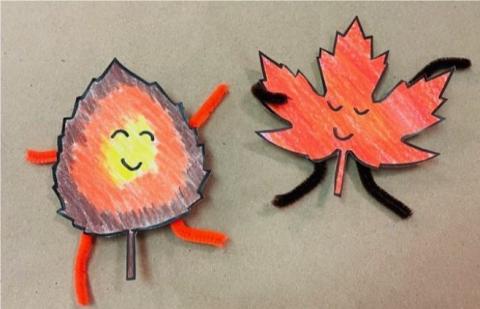 Take and Makes for this Make project will be available at area PPLD libraries beginning Friday, Oct. 15, 2021.
Supplies and Directions:
Step 1.
Gather your supplies.
Provided in your bag: cardstock leaves to color and cut out, pipe cleaners
From home: colored pencils/crayons/markers, scissors, tape or glue
Step 2.
Color in your leaves (or find some real leaves outside!). Try mixing colors to get your perfect fall leaf. Using a marker or pen, draw faces on your leaves.
Step 3.
Cut out each leaf carefully (you might need a grownup's help with this).
Step 4.
For each leaf: cut a pipe cleaner in half. Tape or glue both halves to the back for the arms and legs. Bend them however you like to make your leaf unique!
Step 5.
Have fun with your little leaf sprite friends!