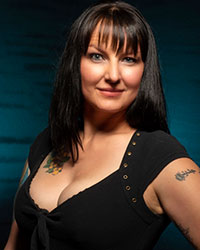 Birth City
Colorado Springs
Current Location
Colorado Springs, CO
Occupation(s)
Author, Solutions Architect, Engagement Manager
Biography
Christina Bergling has been writing since childhood. She has written a variety of styles. A blog from Iraq, software user guides for software, articles for a numismatist magazine. More than anything, she is a horror author.
In college at University of Colorado at Colorado Springs, she pursued a professional writing degree and started publishing small scale. It all began with "How to Kill Yourself Slowly."
Crystal Lake released her latest novel, Followers. Limitless Publishing published her novel The Rest Will Come. HellBound Books published her two novellas, Savages and The Waning. She co-wrote Screechers with Kevin J. Kennedy. She is also featured in numerous anthologies, including Collected Christmas Horror Shorts, Demonic Wildlife, Colorado's Emerging Authors, and Graveyard Girls.
Bergling was born and raised in Colorado Springs. She lives with her family in Colorado and spends her non-writing time working in IT, hiking mountains, dancing, and sucking all the marrow out of life.
Education/Training
BA in English with an emphasis in Professional Writing from UCCS, 2005
Published Works
Followers | September 2021 | Crystal Lake Publishing
"The Dark Sign" | The Best of Indie Horror, November 2020 | Kevin J. Kennedy
"Malignant" | The Horror Collection: Purple Edition, July 2019 | Kevin J. Kenne…
"Awake" | America's Emerging Horror Writers: West Region, March 2019 | Z Publis…
Screechers | March 2019 | Kevin J. Kennedy
"This Way," "Prison," "The Leftovers" | 100 Word Horrors 2, March 2019 | Kevin …
"Duende" | Collected Christmas Horror Shorts 2, October 2018 | Kevin J. Kennedy
"Zoltara" | Carnival of Horror, October 2018 | Kevin J. Kennedy
"Freaks" | Carnival of Nightmares, October 2018 | Limitless Publishing LLC
"Santa's Workshop" | Haunted Holidays, September 2018 | Thirteen O'Clock Press
"Whole", "Under the Rapids" | Ink and Sword Magazine, August 2018
"Look What You Made Me Do" | Colorado's Emerging Writers: A Fiction Anthology, …
"Personas" | Colorado's Emerging Writers: A Nonfiction Anthology, August 2018 |…
"Upgraded" | Demonic Household, August 2018 | Battle Goddess Productions
"After the Screaming Stopped" | Graveyard Girls, June 2018 | HellBound Books Pu…
Savages | second edition, April 2018 | HellBound Books Publishing LLC
"Jack Frost", "You Don't See Me", "Grand Slam" | 100 Word Horrors, January 2018…
The Waning | second edition, December 2017 | HellBound Books Publishing LLC
"Black Widow" | Collected Halloween Horror Shorts, October 2017 | Kevin J. Kenn…
"Adam, Eve, and Mr. Bubbles" | Demonic Wildlife, October 2017 | Battle Goddess …
The Rest Will Come | March 2017 | Limitless Publishing LLC
"Hatch" | Collected Easter Horror Shorts, April 2017 | Kevin J. Kennedy
"The Last Christmas Dinner" | Collected Christmas Horror Shorts, November 2016 …
The Waning | July 2015 | Assent Publishing
Savages | December 2014 | Assent Publishing
"Death and Other Disappointments" | Denver Syntax issue 22, January 2011
"How to Kill Yourself Slowly" | Denver Syntax issue 16, January 2009
"Tell Me About Your First Time" | literary magazine riverrun, 2005 | University…
Published Works Book Jackets
Image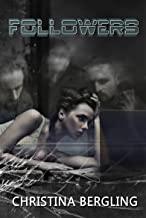 Speaker Topics
Anything though I have previously focused on the writing/publishing process and the horror genre