Image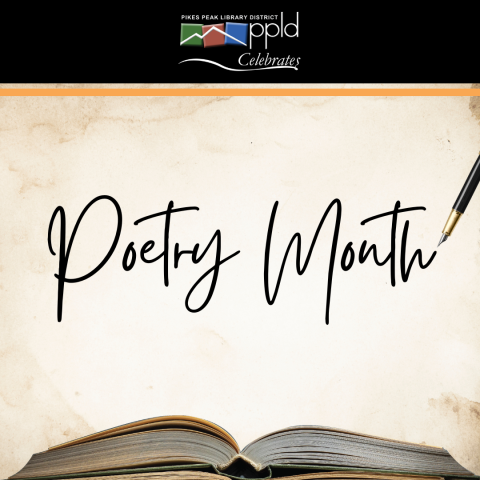 Throughout history poetry has inspired cultures around the world. April is National Poetry Month, celebrating poetry in all of its forms. This diverse art form imaginatively conveys human emotion and experience, captures both epic and quiet moments in concise snapshots, and creates a channel for us to understand the world around us in new and meaningful ways. Songs, poetry epics, haiku, pastoral poems, sonnets, and limericks are just a few poetic forms that you might already be familiar with and enjoy. Discover new poems, poets, and poetic forms while exploring the resources on this page, and don't miss the special poetry events we have coming up in April!
---
Programs
The 2023 Pikes Peak Poetry Summit theme is: "Art is a Bridge to New Perspectives." This year we are celebrating poetry across Colorado with features from all over the state. Join our summit and open yourself up to new ideas through powerful artistry.     
April is National Poetry Month, and this summit is the perfect way to celebrate whether you are a seasoned poet, exploring the art form, or just a lover of poetry. Get inspired, improve your craft, share your words, and learn more about poetry locally and across the state. Engage with our poetry workshops, share your work on the open mic, and experience amazing poetry and music performances.
Workshops include:
How to Rhyme?: Songwriting 101 with Dominique Robbins
Poetry, Pop Culture, and Social Justice with Michael Ferguson
Building Community, Building a Poem with Poetry Heals
Becoming Poetry writing workshop.
Shop our art market to support local poets, authors, and artists. The poetic experience in the Pikes Peak Region is phenomenal and we look forward to celebrating with the community. Be curious about the bridge poetry will create for you. All ages are welcome!
The workshops are provided at no cost. All workshops are 45 minutes in duration. Please be aware that you will need coins for the metered parking.   
Registration opens soon for all workshops.
Enjoy celebrating Poetry Month with the Library!
Jean Ciavonne Poetry Contest Awards Ceremony – Sat., April 29, at 10:30 a.m.   
Celebrate the winners of Jean Ciavonne Poetry Contest, who wrote on this year's theme: "Be the Hero: Empowered and Impactful." Please RSVP to Christa Funke, cfunke@ppld.org, by Tue., April 25.
For 4th and 5th graders and their families and friends
---
Booklists
---
Resources
Poetry and Shorty Story Reference Center  
A full-text database containing thousands of classic and contemporary poems, short stories, and more. It also includes high-quality videos and audio recordings from the Academy of American Poets.
PPLD Literature LibGuide  
A starting place for discovering literature resources within our collection at Pikes Peak Library District, including information on poetry and poets!
---
Recommended Website