Image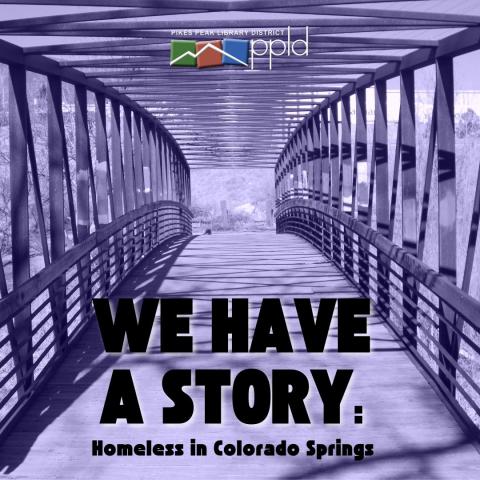 What does our city look like through the lens of someone experiencing homelessness? Come find out at the "We Have a Story" exhibit.
---
We Have a Story
"We Have a Story: Homeless in Colorado Springs" is a documentary project completed in 2022 by people experiencing homelessness. This project captures the unique experiences of these individuals through photos and stories. The four individuals who participated in the project present their distinctive perspectives of this complex and diverse community, which is not easy to define.
Participants took pictures over the course of a month in the spring of 2022. They met as a group with a professional photographer to discuss and critique their photographs. Participants also sat with a historian to conduct an oral history interview. At the end of the project, they each selected three images and wrote an accompanying artist story. The photos and narratives will be displayed throughout Pikes Peak Library District.
The photos, narratives, and oral histories will also be accessible online through Special Collections at Penrose Library, which preserves the stories and records of the Pikes Peak region. "We Have a Story: Homeless in Colorado Springs" contributes to the region's history by documenting the stories of contemporary residents who are typically overlooked in a community's historical record.
Exhibit Schedule:
2022

November - Penrose Library
December - Manitou Springs Library/Manitou Arts Center

2023

January - Cheyenne Mountain Library and Rockrimmon Library
February - Library 21c
March - East Library