Image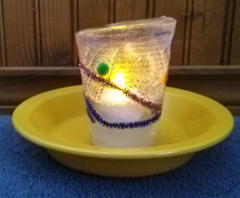 Take and Makes for this project will be available at area PPLD libraries starting Friday, Jan. 14, 2022. Watch this project (a favorite from last winter) at: https://youtu.be/1spsamOSMtg?list=PLMEg2Dd0dSFctLfDQxsL5SmuE8zkwQFmu/
Supplies:
Plastic cups in 2 sizes
Pipe cleaners
Pompoms and other doodads or baubles or other items of your choice
Battery operated tea light candle
Tape
Water
Freezer
Paper towel
Additional baubles or doodads
Weights, like rocks
Directions:
This is an engineering challenge! For more step-by-step pictures of project, open pdf link below.
Twist your pipe cleaners up the inside of the larger cup.
Slide the smaller cup inside with the pipe cleaners in between the large and small cups.
Carefully push pompoms and/or other baubles or doodads between the 2 cups also.
With the tops of the cups even, crisscross two pieces of tape across the top of the cups.
Placing cups on a paper towel, gently fill the larger cup with water until it's about 1 inch from the top. You do not want water to go into the smaller cup. You may need to add something to weigh down the smaller cup.
Place in the freezer until it's frozen solid. This could take about 5 hours.
Observe your creation! You may notice that the smaller cup is higher as is the water/ice level. This is a great illustration of how water expands as it changes states from a liquid to a solid.
Remove from freezer and let sit about 10 mins., carefully remove the smaller cup (and tape). Then remove the larger cup. You may need to cut the cups off.
Turn on the battery operated candle and place it in the center of your lantern. Put your lantern outside to admire!
Based on https://www.steampoweredfamily.com/activities/engineering-ice-lantern-s…