Image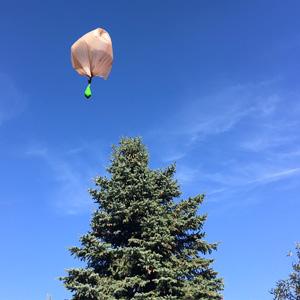 Can your water balloons survive a big drop? Find out with this experiment.
Supplies and Directions:
One balloon
Water
One plastic shopping bag
One rubber band
Directions:
Add water to your balloon, don't fill the balloon, leave lots of room to tie the balloon closed.
Cut the ends of the handles of the bags. Tie or rubber band them to the knotted end of a water balloon
Go outside and drop it from a high place to see if it breaks when it lands.
Test and retest until your balloon breaks.
Try it again with another balloon.
See what else you can attach to your parachute and let drop.