Image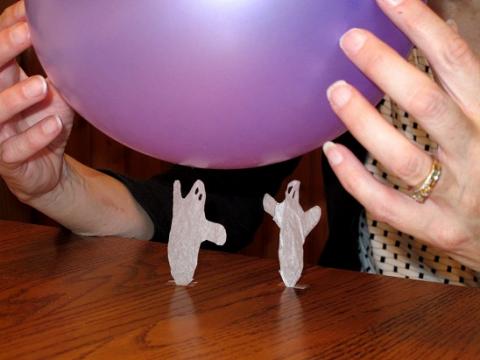 Take and Makes for this project are available starting today, Oct. 8, 2021, at area PPLD libraries.
Supplies and Directions:
Materials Provided: White Tissue Paper, Balloon
Materials you Provide: Scissors, Head of Hair, Marker, Spooky Music (optional), tape (optional)
Directions:
Cut several ghosts out of your tissue paper. Each ghost should be about 1.5 inches long. Draw eyes on each ghost with your marker.
Place your ghosts on a flat surface.
Blow up your balloon and tie the end. Rub it through your hair really fast for about 10 seconds to add a static charge.
Move the balloon near your ghosts. They should begin to rise toward the balloon. See if you can get them to rise, move, and dance around. You should be able to get the ghost to move from several inches away.
If you want the ghost to rise without sticking to the balloon, try taping just the tip to your surface.
The Science behind it:
As you rub the balloon through your hair, you are building up negatively charged electrons on the surface of the balloon. They are then able to pull light positively charged items toward them.