Image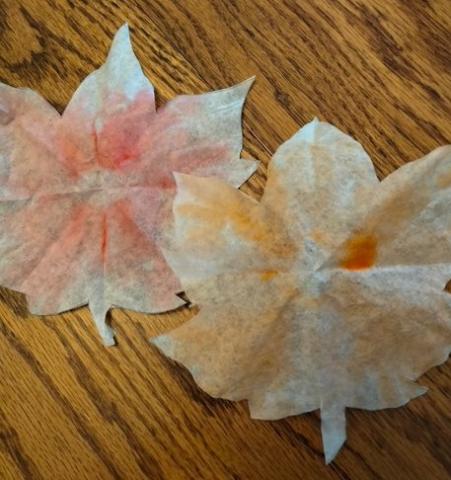 Take and Makes for this project, for ages 5-12, will be available at area PPLD libraries, beginning Sept. 9, 2022.
Supplies:
We provide:
Coffee Filters
Washable Markers
Leaf Template
Materials you provide:
Scissors
Cup of Water
Pencil
Directions:
(See pdf link below for additional pictures of this project.)
1. Stack your coffee filters. Use the template to trace a leaf on the top one. (If you'd prefer, just draw your own leaf.) Cut the leaves out through all the coffee filters.
2. Use a washable marker to draw a thick circle in the center of each coffee filter leaf. Do not fill in the center of the circle or color the entire leaf.
3. Fold the leaf 3 times (in half, in half again, and in half again). You should have a point in the middle of your circle.
4. Carefully dip the point of the leaf in the cup of water and hold it there until the leaf is saturated. It may need a minute or so. You will probably want a new cup of water for each leaf.
5. Let the leaves dry on a surface that can get color on it. Once they are dry, carefully unfold them.