Image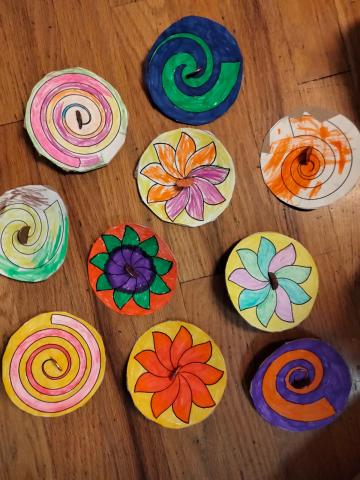 Take and Makes for this project will be available at area PPLD libraries on Oct. 14, 2022.
Supplies and Directions:
Materials we provide:
Paper Templates
Cardboard
Materials you provide:
Scissors
Penny
Glue
Markers, Crayons, or Colored Pencils
Directions:
Color your template. Glue the template to the cardboard. Cut out around your template.
Cut a small slit in the center of the circle to insert the penny. The slit needs to snugly hold the penny.
Spin. As it spins, note what you see.
The Science Behind it: Something in motion stays in motion unless a force acts upon it. In Penny Spinners, the friction between the penny and the surface slows it down and eventually causes it to stop. This project also shows color mixing as the colors combine when the spinner spins.