Image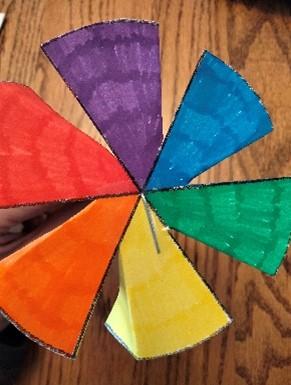 Free materials for this Take and Make, for ages 5-12, are available starting today at area PPLD libraries. For more pictures of this project, click on the pdf link included at the end.
Materials and Directions:
Materials we provide:
Circle Template
Large Paper Clip
Large Straw
Materials you provide:
Scissors
Tape
Markers
1. Color the sections of the circle template with rainbow colors.
2. Cut the circle out. Also cut on the lines between each color, stopping about ½" from the center. Fold flaps down.
3. Straighten the paper clip and then fold a small part of one end down to a 90 degree angle. Carefully poke the paper clip through the center of the circle and tape the small folded part to the colored side.
4. Bend the other end of the paper clip so it can be inserted in the straw and stay secure. Cut the length of the straw in half.
5. To fly your spinner, hold it between your palms with the circle at the top. Roll it quickly and let go. It should spin and float. The colors will blend as it flies. It may take some practice.