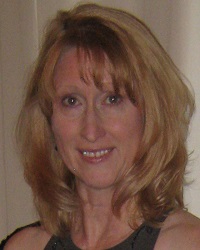 Occupation(s):
Author - Artist - Seamstress
Biography:
Jodi Bowersox has worn many hats: actress, seamstress, designer, teacher, choir/play director, artist, and author. She has written two children's books under the pen name J.B. Stockings, but her current passion is writing romance novels. To read her blog and writing samples or to view her art gallery, go to www.jodibowersox.com.
Jodi grew up on a farm in Nebraska, then spent most of her life in the sweltering summer humidity of NE Kansas. Her experience working for an interior design shop became fodder for her first romance, Interiors By Design.
Her farm and small town background helped with the writing of her second novel, Horses, Adrenaline, and Love.
Living close to Kansas City for 27 years gave her the setting for her third novel, a romantic suspense entitled Cinnamon Girl Explains It All.
A recent move to the Colorado Rockies has removed the humidity from her life (now she's bathing in vats of lotion), and the mountains have already provide new inspiration for writing. Her Rocky Mountain Series is set in Colorado as well as her time-travel romance, JOLT, book 1 in her Lightning Riders series.
Not one to get stuck in a box, she has even written a short Bible commentary on the book of Ephesians.
She reads an eclectic mix of Christian non-fiction, Sci Fi, and Romance, and loves playing Settlers of Catan, Ticket to Ride, and any number of other games with her husband, sons, and daughters-in-law.
Four crazy cats keep life interesting.
Published Works:
Rocky Mountain Calvary (Amazon Publishing, 2017)
Rocky Mountain Destiny (Amazon Publishing, 2016)
Rocky Mountain Redemption (Amazon Publishing, 2015)
Rocky Mountain Sunrise (Amazon Publishing, 2014)
Rocky Mountain Angels (Amazon Publishing, 2014)
Cinnamon Girls Explains It All (Amazon Publishing, 2013)
Horses, Adrenaline, and Love (Amazon Publishing, 2013)
Interiors by Design (Amazon Publishing, 2012)
The Stubborn Princess (Tate Publishing, 2012)
A Tale of Two Kitties (Trafford Publishing, 2006)
Ephesians: The Plan, The Purpose, and The Power (Amazon Publishing, 2015)
Education/Training:
B.A. in Theater from Sterling College, Sterling KS
Organizations:
Member of the Colorado Authors League
Speaker Topics:
The Writing Process - The Editing Process