The results are in!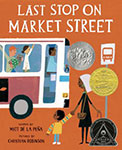 Newbery Medal
The Newbery Medal for "the most distinguished American children's book" of 2016 was awarded to Last Stop on Market Street, written by Matt de la Peña.
"The celebratory warmth is irresistible, offering a picture of community that resonates with harmony and diversity." - Booklist.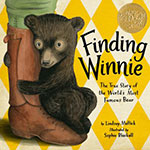 Caldecott Medal
Finding Winnie: The True Story of the World's Most Famous Bear by Lindsay Mattick, is the 2016 Caldecott Medal winner.
"A perfect melding of beautiful art with soulful, imaginative writing, this lovely story, penned by Colebourn's great-great granddaughter, is ideal for sharing aloud or poring over individually." - School Library Journal.
PPLD's Award Booklists:

Caldecott Medal Winners
- (printable)
Visit the Newbery Medal and Caldecott Medal websites for a full list of Honor books.