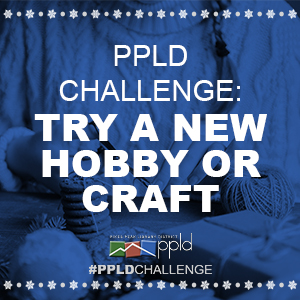 Enter your creations in our PPLD Challenges! Randomly selected entries will be featured on PPLD's websites and social media accounts and one randomly drawn entry will receive a gift certificate and prize pack of curated craft books from the Friends of the Library.
Try a New Hobby or Craft
Start 2021 by trying a new craft or hobby! Perhaps you have always wanted to learn a skill like 3D design or knitting. Or, maybe you have a project in mind that you would like to complete. Either way, use the New Year as inspiration to innovate and try a craft or hobby that is new to you and share the results with us!
Post a photo of your project on Facebook or Instagram any time from Fri., Jan. 15 - 31 and make sure to include the hashtag #ppldchallenge and tag @ppld to be eligible to win. Alternatively, you can send your photo to ppldchallenge@ppld.org and we will post it to social media for you!
Need inspiration or an idea for something new to try? Try one of these projects that are easy to complete at home.
Check out these video craft and project tutorials from PPLD staff here:
Or, research your genealogy using resources here.
Rules for participation:
Please participate in good faith.
Keep competitions civil and fun!
PPLD reserves the right to remove inappropriate content, including but not limited to obscene or offensive statements or personal attacks. Learn more about our policies here.