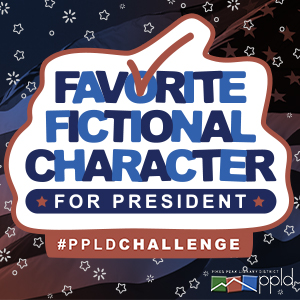 Enter your creations in our PPLD Challenges! Your entry could be featured on social media. We'll select one winner for each challenge, who will win a $25 gift card to Poor Richard's Books & Gifts. Show off what you've made and be inspired by the creativity of others.
Fictional Character for President!
From Tue., Oct. 20 - Tue., Nov. 3, it's time to vote! All characters entered will be added to an online survey for voting. Click here to vote! Click "Discussion" on the Facebook event then "like" the poster or comment on the post to cast your vote! Encourage your family and friends to join in the voting - the winning character will be featured on our Facebook page.
Rules for participation:
Please nominate in good faith your favorite fictional character
Keep nominations and debates about fictional character merits civil and fun!
PPLD reserves the right to remove inappropriate content, including but not limited to obscene or offensive statements or personal attacks. Learn more about our policies here.
---
---
Summer Challenges