Name of the Sculpture: Virage
The natural environment is one of our treasures in Colorado. Pikes Peak Library District (PPLD) sought proposals for an interactive, 3D, freestanding art piece to draw attention to this resource and its conservation. The call was answered by several artists and, after a jury process, Virage was selected. It is eye catching, conversation evoking, appropriate for all ages, safe for public spaces, and movable among Library locations. Throughout the year this sculpture will travel to four PPLD locations: Penrose Library, Sand Creek Library, East Library, and Library 21c.
With a focus on the beauty of our natural environment and conservation, PPLD hopes to evoke conversation and interaction among patrons. A variety of programming will be offered throughout the District that relates to this topic.
Click Here to learn about related programs.
---
Post your photos of and with
#PPLDSustainaball
on social media!



---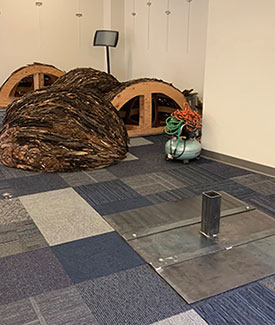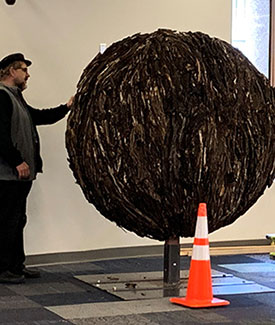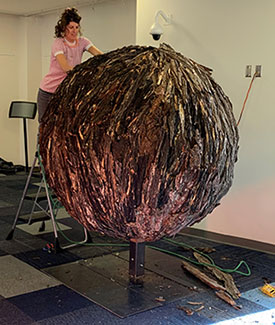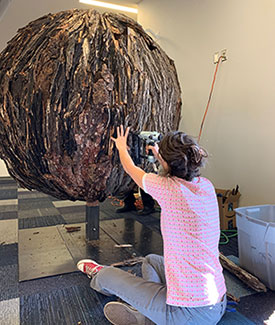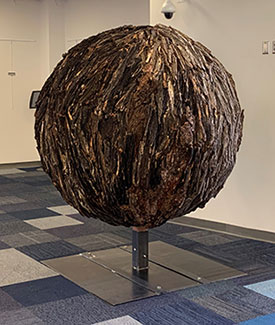 ---
Artist Narrative:
The current political atmosphere has created an unsettling time with the lifting of protections to the environment, denial of scientific knowledge and climate change, and inclusiveness and access to education.
Virage
subtly, yet critically speaks to the impacts of humans on the environment and the consequences ahead. The beauty of the barks' texture together with the perfect form of the sphere is meant to give a sense of hope and promise that humankind will take responsibility, humankind will find a respectful and healthy balance with the natural world and ecosystems. Human beings have the incredible ability to be innovative and creative, when presented the opportunity solve insolvable puzzles. The artwork invites the viewer to consider and reconsider the current choices and actions as a consumer. There is an intended charge to the viewer to make our natural world the highest priority - to practice conservation.
---
Artist Biography:
Nikki Pike
grew up in Black Forest, Colorado, where she learned to ride bikes and climb trees in between flashlight tag, midnight soccer, and competitive sledding. The adopted daughter of a nurse and an engineer, and sister to four brothers and a sister, Nikki learned to work in groups and negotiate at an early age. Fighting over the measuring cups in the bathtub and wooden spoons in the garden, the Pike family children grew wild imaginations.
The earliest sign that Nikki may later become a sculptor was in her sixteenth year in being grounded for a month. Rather than moping around and feeling sorry for her new life in confinement, Nikki raided her father's toolbox and undertook the accidental but artistic resurfacing of her very first vehicle, an AMC gremlin. Otherwise, realizing her interest and making a commitment to art came much later after her surrender to finally join the quest to attend college and explore communications design. Her exposure to materials and objects fed her need to make and build and fulfilled the physical gap that once was spent playing soccer. 
Now, Nikki Pike is an artist and activist committed to serving the community through her art practice and role as an educator. Through the use of universally positive human experiences such as curiosity, music, surprise, and gifting, along with the influence of Maslow's hierarchy of needs, she spreads values of empowerment, vulnerability and connection in the form of experience as opposed to product. Nikki sees herself as a cultural agent working together with local communities promoting activity and creativity. With her an expansive practice, Nikki straddles public arts, social sculpture, service srt and is exploring ideas of relief art intended to aide communities responding to disaster. Her methods start from the ideals of democracy and her work has been featured at the Denver Art Museum, the Boulder Museum of Contemporary Art, and Art Basel Miami to name a few. Currently Nikki resides in Denver, Colorado, and holds a professorship at the University of Colorado, Colorado Springs.