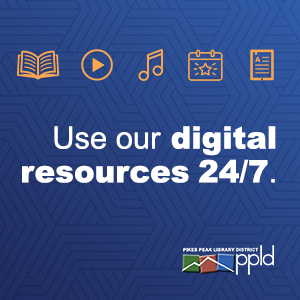 Updated July 8, 2020
While our physical locations remain temporarily closed until further notice, you can still use the Library remotely, anywhere and anytime. You can also ask a librarian questions by phone, live chat, and email. Plus, our librarians are bringing their services to you!
Visit our virtual calendar of events for all scheduled programs and activities. Can't participate live? No worries! Many of the videos are featured on our YouTube channel and playlists, so you can watch whenever it's convenient for you.
Here are some of the current virtual opportunities that our team created for you to experience, wherever you might be during this pandemic.


---
FOR ADULTS:
Maker in Residence: Textile Art project!
To close out the Spring Maker in Residence program, Textiles West is extending the Textile Art project into the summer!

If you are interested in participating in the Textile Art project, but don't have supplies such as needle, thread, or fabric readily available at home, we've got you covered.

To participate, select a Library location from the list on the webpage. The link will take you to that Library's event calendar listing. After you register, PPLD staff will send a supply packet with project instructions to the Library location that you picked. Then, Library staff will contact you when your supply packet is available for pickup, which you can access through our Curbside Services. Once you have your supply packet, you can get started on the project!




Library Crafts
Missing your Library's programs? Exhausted your home crafting ideas? PPLD has you covered! Presenting.. Take and Make programs! Your Library will now have crafts available to TAKE home and either follow a virtual class or included instructions to MAKE!


Virtual Mindful Movement and Meditation
Wednesdays from 1 - 2 p.m.
Join instructor Ambrie Sward for this virtual mindful movement class that will include meditation and stretches to build the mind/body connection. All skill levels welcome.




Virtual Yoga
Mondays, Thursdays, and Saturdays from 9 - 10 a.m.
Local instructor Svetlana Nudelman guides practitioners through beginner and intermediate-level yoga poses.




Interactive Reader's Advisory
Mondays from 7 - 8 p.m. and Thursdays from 1 - 2 p.m.
Looking for new books, authors, movies, and TV shows? Our librarians have plenty of recommendations and can give you real-time suggestions!




Virtual Book Club
Missing your Library's book club? Some have gone virtual!




Coffee Talk
Grab your favorite beverage and join us for a virtual current events discussion moderated by PPLD staff. Topics of discussion can range from current events to pop culture to gardening to a favorite book you are reading. Space in each discussion is limited, so register ahead of time to insure your spot!




Share your stories and experiences during the pandemic!
Working in collaboration with the Colorado Springs Gazette, we are helping document this historic event in the Pikes Peak region. Anyone can share written responses to COVID-19 and its impact on their lives. Use this link to submit photographs or videos directly to PPLD.
---
FOR KIDS, TEENS, & FAMILIES:
Have an adventure with Pikes Peak Library District this summer! Our game helps kids and teens stay engaged and active over the summer months, despite the COVID-19 pandemic. We know you're looking for at-home activity ideas, and we are here to help!

Anyone ages 0 - 18 can participate and win prizes through reading, moving, and imagining. Either participate in one of our virtual programs or use one of our activity ideas!

including Virtual Storytime, Summer Picks, Virtual KidsMake, KidsSTEM, and our summer presenter series Summer Fun!

including Teens Make, Teen Self-Care, Fandom, Teen Tech, Teens Eat, and Teens Game!
---
Don't see anything that interests you right now? Bookmark our virtual services page for frequent updates, or visit our calendar of virtual events for new additions each week.
Stay tuned for more updates from PPLD! Our team continues to explore and expand virtual opportunities that we can bring to you, wherever you may be. Right now, we're creating new virtual experiences that will launch in the coming days and weeks.