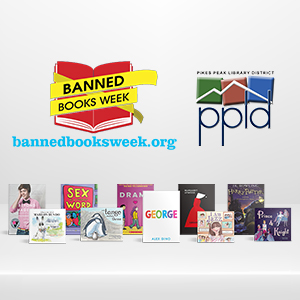 Censorship is a dead end - Find your freedom to READ!
"I'm offended"…."How can I explain this to my kid?"…."This isn't what I believe"….The idea that books that present these challenges should be taken off of the shelves, and the opposing assertion that all knowledge should be available to everyone, is the foundation of librarians' favorite holiday week: Banned Books Week, Sat., Sept. 27 - Sat., Oct. 3.
When you read a book or watch a movie, ever think to yourself "I'm offended" or "How can I explain this to my kid?" or "This isn't what I believe"? Those thoughts are common and every library has something that offends someone. Banned Books Week is about keeping materials available for all – even if they offend someone.
The American Library Association honors this tradition by taking the time to educate us all on intellectual freedom. Banned Books Week launched in the 1980s after a rise in challenging and banning controversial materials (including Hop on Pop, by Dr. Seuss).), In short, this is your right to read whatever you want, whether someone else agrees with it or not. So this Banned Books Week, go out and explore without limitations! Read the books that you want to read and find the information that you want to know whether it's offensive, different, scary, magical, or anywhere in between!
---
The Top 10 National List
The ALA Office for Intellectual Freedom tracked 377 challenges to library, school, and university materials and services in 2019. Of the 566 books that were targeted, here are the most challenged, along with the reasons cited for censoring the books:
---
PPLD Challenge: Banned Books Art
Celebrate your right to read! Create a piece of art celebrating or using pages from a banned book and show off what you've made on Facebook. You can even check out our video on PPLDTV, premiering on Sept. 1, for how to make wearables from banned books.
Learn more here.
Take and Make: Banned Books Mini-Charms
Get a Take and Make kit from your Library starting Fri., Sept. 4, and get everything you need to create a beautiful miniature book charm featuring banned or challenged books that could be used as a necklace or a keychain (while supplies last).
Teens Make: Banned Books Mini-Charms (video)
---
---
Pikes Peak Library District (PPLD) believes in freedom of information for all and does not practice censorship. The selection of Llibrary materials is predicated on the patron's right to read and freedom from censorship by others. Library materials may be controversial and any given item may offend some person. Selections for the Library are made solely on the merits of the material, in relation to the development of a collection that serves the needs and interests of a diverse population.
Community members are always welcome to submit a reconsideration request form for Library materials.
Please see our Challenge Materials Policy for more information.