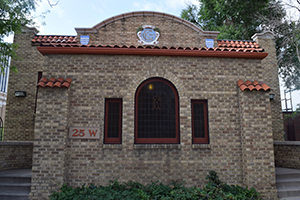 Pikes Peak Library District is proud to announce a partnership with local community collectives of DIT (do-it-together) arts professionals, offering building space for their free and low-cost community programs in the Library District's Knights of Columbus Hall (KCH). Located on the Penrose Library Campus at 25 W. Kiowa St., the historic building is experiencing a renaissance as home to a wide variety of arts events such as music and art shows, zine and printing workshops, dance instruction, and artist conferences.
The principal partner in the opening phase of these experimental programs is Flux Capacitor, a supportive, engaging, all-volunteer community of teens through adults who actively plan and attend arts-centered events. Flux staff have been hosting concerts and arts events in Colorado Springs for more than a decade, and in the last two years, have hosted over 500 music and art shows. Also using the facility during this experimental stage are Peach Press and the Non-Book Club Book Club.
Events are currently limited to 49 attendees until a reevaluation of the building's CSFD Occupancy Rating is completed and renovations to the building can be completed. Entrance to all KCH events are from the lower Penrose Library parking lot, where parking is plentiful and free after 6 p.m.
For more information, check out the recent press coverage of this new partnership: