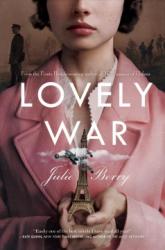 Review:
Lovely War by Julie Berry is such a wonderful book about two couples in the tragic and terrible days of WWI as narrated by the Greek Gods. I chose Lovely War because of my interest in historical fiction, especially historical
romances, and was not disappointed by this amazing story. The book centers on four young people who's path's cross during WWI-- British Hazel Windicott, a pianist, and James Alderidge, a would-be architect shipped off to war, Colette Fournier, a Belgian singer who lost her family at the hands of the Germans, and Aubrey Edwards, a black American solider in a jazz military band in a time of military prejudice and racial discrimination. Hazel and James meet and fall in love days before he is shipped off to the Front to face deadly combat in the WWI trenches. Distraught over the fate of James, Hazel, eager to help the war effort, enlists as a pianist at a volunteer job and meets Colette, a fellow volunteer. They become very close friends, and Colette begins to fall in love with charismatic Aubrey, who's jazz is redefining the world of music. What follows is a beautifully written novel about these four characters, their hardships, and loves.

This book is structured interestingly-- the story of these two parallel loves is narrated by the Greek goddess of love, Aphrodite, who tells the tale years later in the days of WWII to her husband, Hephaestus, god of fire and volcanos, and a few other gods to remind them what true love is and the transcendent power of love over war. The story is funny, heartbreaking, intense, and overall, beautiful. I felt as if I knew Hazel, James, Aubrey and Colette personally by the time the story is over. Julie Berry's prose is almost poetic in it's splendor, rich with meticulous descriptions about wartime France and Britain.

This book deals with elements of WWI I did not know about-- Germany's brutal and heartbreaking invasion of Belgium, and the prejudice and racial discrimination in the U.S army during WWI. I wasn't a huge fan of the
inclusion of the Greek Gods as narrators at first-- the story is strong enough to stand without it-- and until the very end, the purpose of the Gods in the story is almost irrelevant. I would have been interested to know if Berry ever had a draft of the story sans-Gods. However, reflecting back on the book, the Gods add another tier to the rich narrative, one that is appreciated more after the novel is over. That said, I know that that
inclusion was to make the book more accessible to teenage readers. Fans of Greek epics and the Percy Jackson series will enjoy the inclusion of them Gods.

The central romance and characters in this book are Hazel and James, and their relationship and connection is deeper than Colette's and Aubrey's until the end of the story. Berry dedicates more time to the relationship of Hazel and James, and it is the best story line as a result. I wish Colette and Aubrey's story would have been given more attention, as it is truly unique and unlike anything I've read, but the last pages of the book focuses solely on them which I enjoyed.

This book never lacks action and is a very quick read. I often had to remind myself to slow down so not to rush through it! Lovely War is written for teenagers, but is just as accessible for tweens and adults, truly making it a book for all ages. Lovely War is one of those special books that you read and know that your perception of the world will be changed because of it. I cannot stress how much I recommend this beautiful book. It is a marvel of the historical fiction, romance and mythology genres that everyone should read.
Reviewer's Name:
Allie S.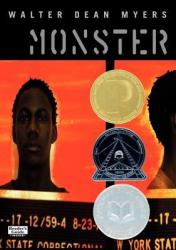 Review:
This book is an interesting and suspenseful novel. It is filled to the brim with moments that will have readers on the edge of their seat. Monster also is written in a unique format, in the form of a movie script written my the protagonist Steve Harmon, who is awaiting trial for a crime he didn't commit. This story is written with intense figurative language that paints a terrifying image depicting the horrors of prison. I highly recommend it to anyone looking for a great suspenseful read. Reviewer Grade: 7
Reviewer's Name:
Kyle Y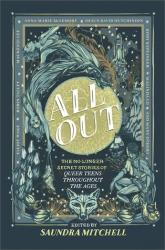 Review:
All Out is a collection of short stories from different times in history.
These short stories keep you on the edge of your seats with every page. Being a LGBTQ+ Short story book I was delighted with detailed stories keeping with historical values and cultures. Everything from Pirates to Runaway Brides this book has it. Lovely storylines and flow. Definitely a must read for teenagers.
Reviewer Grade: 8
Reviewer's Name:
Lizzy B